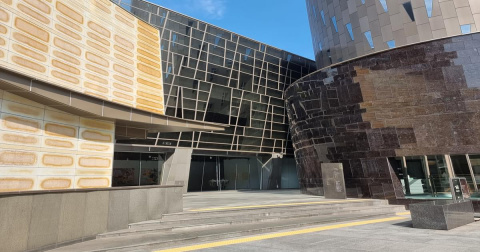 White Cube is pleased to announce the opening of a second permanent gallery in Asia this autumn in Seoul, South Korea.
Situated in the heart of the bustling Gangnam-gu district, White Cube Seoul will comprise of exhibition spaces, a private viewing room and offices spanning over 300 m² (3230 sq ft) and will be led by the gallery's Korean representative and director Jini Yang, who joined in 2018.
The ground-floor, street facing gallery is in close proximity to Dosan Park and cultural institutions including the SONGEUN Art and Cultural Foundation. It is located in a striking, ceramic-encased building, which is also home to the Horim Art Centre, a renowned private museum with an extensive collection of Korean modern art and antiquities.
One of the world's leading contemporary art galleries, White Cube represents over 60 international artists and artist estates. The gallery's programme extends across Europe, Asia and the US, with spaces in London, Hong Kong, Paris, New York and West Palm Beach, as well as off-site projects and online exhibitions.
White Cube Seoul's programme will feature established and emerging artists from inside and outside of the gallery's roster, alongside group exhibitions.
In autumn 2023, in addition to the new space in Seoul, White Cube will also open its first public gallery in New York. It will be located on the Upper East Side at 1002 Madison Avenue.
. . . .
화이트 큐브는 올 가을 한국 서울에서 아시아에서 두 번째 상설 갤러리를 개장하게 된 것을 기쁘게 생각합니다.
번화한 강남구의 중심에 위치한 화이트 큐브 서울은 300m²(3230평방 피트)에 달하는 전시 공간, 개인 관람실 및 사무실로 구성되며 갤러리의 한국 대표이자 양진이 감독이 이끌게 됩니다. 2018년에 합류했다.
1층의 거리를 마주한 갤러리는 도산공원과 송은문화예술재단을 포함한 문화 기관과 매우 가깝습니다. 이곳은 한국의 현대 미술과 골동품을 광범위하게 소장하고 있는 유명한 사립 박물관인 호림 아트 센터가 있는 인상적인 세라믹 건물에 있습니다.
세계 최고의 현대 미술 갤러리 중 하나인 화이트 큐 는 60명 이상의 국제 예술가 및 예술가 단지를 대표합니다. 갤러리의 프로그램은 런던, 홍콩, 파리, 뉴욕 및 웨스트 팜 비치의 공간과 외부 프로젝트 및 온라인 전시회를 통해 유럽, 아시아 및 미국 전역으로 확장됩니다.
화이트 큐브 서울의 프로그램은 그룹 전시와 함께 갤러리 안팎의 유명 작가와 신진 작가를 선보일 예정입니다.
2023년 가을에는 서울의 새로운 공간 외에도 화이트 큐브는 뉴욕에서 첫 번째 공개 갤러리를 엽니다. 그것은 1002 매디슨 애비뉴 의 어퍼 이스트 사이드 에 위치할 것입니다.