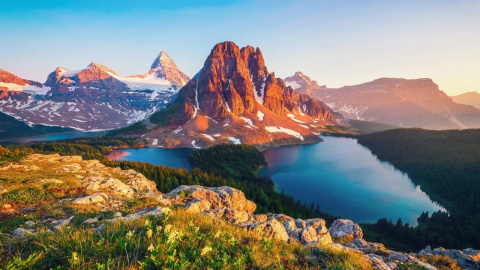 The province of British Columbia, also known as BC, is one of the 10 provinces and three territories that make up Canada. The name, British Columbia, refers to the Columbia River, which flows from the Canadian Rockies into the American state of Washingon. Queen Victoria proclaimed British Columbia a British colony in 1858.
British Columbia is on the west coast of Canada, sharing both a northern and southern border with the United States. To the south are Washington State, Idaho, and Montana, and Alaska is on its northern border.
British Columbia refers to the Columbia District, the British name for the territory drained by the Columbia River, in southeastern British Columbia, which was the namesake of the Columbia Department of the Hudson's Bay Company.
Queen Victoria chose the name British Columbia to distinguish what was the British sector of the Columbia District from that of the United States or the "American Columbia," which became the Oregon Territory on August 8, 1848, as a result of a treaty.
The first British settlement in the area was Fort Victoria, established in 1843, which gave rise to the city of Victoria. The capital of British Columbia remains Victoria. Victoria is the 15th largest metropolitan area of Canada. The largest city in British Columbia is Vancouver, which the third-largest metropolitan area in Canada and the largest in Western Canada.
The Columbia River was so named by American sea captain Robert Gray for his ship the Columbia Rediviva, a privately owned ship, which he navigated through the river in May 1792 while trading fur pelts. He was the first non-indigenous person to navigate the river, and his voyage was eventually used as a basis for the United States' claim on the Pacific Northwest.
The Columbia River is the largest river in the Pacific Northwest region of North America. The river rises in the Rocky Mountains of British Columbia, Canada. It flows northwest and then south into the U.S. state of Washington, then turns west to form most of the border between Washington and the state of Oregon before emptying into the Pacific Ocean.
The Chinooks who live near the lower Columbia River, call the river Wimahl. The Sahaptin people who live near the middle of the river, near Washingon, called it Nch'i-Wàna. And, the river is known as swah'netk'qhu by the Sinixt people, who live in the river's upper reaches in Canada. All three terms essentially mean "the big river."